Robots aren't coming to take over the world, but artificial intelligence is coming to social media and research in the form of bots. They are being developed and shared by companies around the world.
But what are they exactly?
According to CNET they are "Specifically, an application that performs an automated task, such as setting an alarm, telling you the weather or searching online." They are currently a fairly simple form of artificial intelligence.
Their uses vary, from Siri on your iPhone to a Netflix Twitter bot that gives live updates on the latest shows to watch. They are being applied to journalism through Twitter and Facebook messages to break news but also work further behind the scenes for research.
I have recently downloaded the new ABC Facebook news bot, which sends daily messages with headlines and options to read more. For my daily news reading it is easy and accessible, but as a journalistic tool how does a bot compare to the reporter?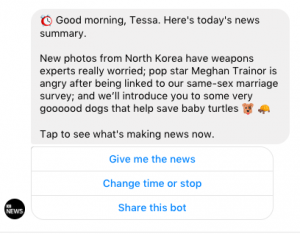 The news bot is not the only way that bot systems are being used in journalism, they can be used to gather research and information much quicker than a manual hand.
An example of this is the Twitter Bot created by Keith Collins, a tech reporter and developer at Quartz, called @actual_ransom. The bot was created to report on the WannaCry bot's worldwide ransom threats and broke news quicker than many technical reporters.
But these technologies are far from perfect. In March of last year Microsoft's bot, Tay, tweeted offensive and racist rants. Facebook's bot, AI, started conversing in a made-up language, that was only understood by other bots, last month and had to be shut down.
Despite this, the opportunities for bots in journalism and innovation that is still to come is an exciting realm that will help to break news faster and leave journalists more time to create engaging and well made stories.