For the deaf person, visual communication is essential to understanding the world around us. They say a picture tells a thousand words. How much richer a narrative told from a series of photos, telling different aspects.
Now I'm no expert on photojournalism myself (the extent of my 'experience' is studying it in first year and receiving a pretty average mark), but as a gymnastics commentator once said, "you don't need to know a thing about gymnastics to know beauty when you see it."
Speaking of gymnastics, check out this story, which captures the reactions of Olympic gymnasts' parents watching their daughters compete for gold in Rio. There are fist pumps, tears, hi-fives and cheers.
What the story does well is capture the parents' emotions at different parts of the gymnasts' routines. The juxtaposition of the shots of the parents and the aero-defiant gymnasts convey the anticipation before the eruption with joy when the girls stick it (Though I am a little confused as to why Simone appears in one of the shots with her Grandma when she's supposedly just finished a tumble on the floor).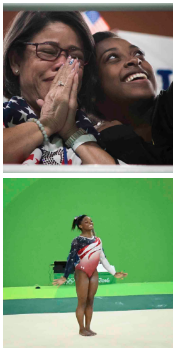 I think the story concept it great, though it would be more effective if it were formatted differently.
Instead of seeing all the reactions at once, I'd create a lead-up to the final shot. This could be done by scrolling through the juxtaposed photos, creating a smooth and more suspenseful transition to the final reaction.
On a much, much, less light-hearted subject, Daniel Berehulak's story about the war on drugs in the Philippines has beautiful formatting and really immerses the reader in the scene. (Warning: distressing content included).
No audio, just words and the magic of a camera. The fade-in, fade-out effect creates fluid transition from different sections of the story.
The photos speak for themselves, conveying the absolute disparity of the people and gloomy atmosphere. Furthermore, the "View location" button allows you to step deeper still into the scene, observing the exact site of the photo on Google Streetview.
What really gets me about this piece is how many children are involved in either witnessing brutality or losing a loved one.
This story almost makes you feel like a detective, reading precise details and looking at security footage about those being "slaughtered."
You know a story's good when you forget you're actually sitting at a desk at a university in Melbourne, reading it for the primary purpose of completing an assignment.