Instagram- the social media platform that is both permanent and fleeting, and is infiltrating the world of journalism as a technological tool for storytelling.
Launched in 2010 and acquired by Facebook in 2012, Instagram has become one of the most popular and widely-used photosharing options in the digital age.
In recent years, it has been adopted by newsrooms such as the New York Times and Huffington Post, a variety of print publications and freelance journalists alike, and has proven to be an accessible and innovative format for current journalists.
British Photojournalist Phil Moore was named as  PDN 30 New and Emerging Photographer in 2014 and has a following of 76.9K on Instagram.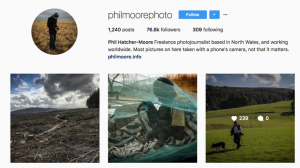 While this is not used as his only professional platform, Moore utilises Instagram to capture the moments 'from the field'– documenting his coverage of conflicts in Libya, Syria, Somalia, and other significant explorations of landscape and human experience in Africa and Europe.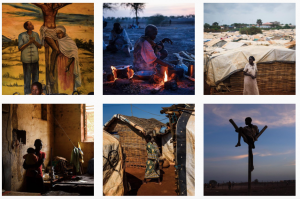 His photos are captioned with mini-stories that provide context are and raw and emotional, scrolling through his Instagram feed takes photojournalism to a new level of powerful storytelling. The sequences of images transport the viewer to the midst of a disease-ridden African village, a mountain range laid thick with snow, or on a river floating through South Sudan- to name a few.
Photojournalist for the National Geographic, Neil Shea, works with his Instagram account as a platform for telling short stories and documenting collaborations.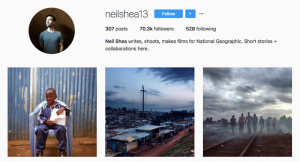 His work has been described by Contently.com as some of the most serious literary Instagram journalism , and is viewed by him as a resource for valuable creative non-fiction. His posts are made up of intimate profiles and compelling pieces of journalism that tell the stories of people who may otherwise remain indefinitely voiceless. His incredibly descriptive captions that truly emphasise the essence of the human emotions and natural landscapes that are captured in his work.
His work has taken him to ISIS war-zones, scenes of destructive political suppression in Nairobi, and on migrant boats escaping Libya. Much of his work for the National Geographic or other publications is not used due to space restrictions and editing, and Shea has said in the past that he had 'always been looking for ways to use those stories in another way.'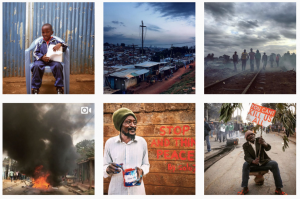 As a journalistic tool, Instagram allows photography to express some of the most unthinkable human stories; giving the journalist the freedom to present stories in a limitless sphere, and providing an insight for the world to see.