Before entering university, I viewed technology as something so complicated that I would try to avoid at all costs. Technology changes constantly and never stand stills. Every year, we're bombarded with new apps, new ways to communicate and interact with one another. And that scared me!
In some way, my sister convinced me to study Graphic Design (trendy, high salary). And I've become a tech geek since then…Nope! I wish it was the case.
But it was the most frustrating 3 months of my LIFE. It took me hours and hours to finish an assignment. And I just sat there at the desk all day long, missing human interactions. I gave up after the first semester doing this online course and changed the major to Professional Communication at RMIT, thinking: "It has nothing to do with tech. All good now".
I couldn't be more wrong. Jump out of the frying pan into the fire! We are in the digital age and facing with massive technological change. Instead of avoiding it, we have to learn and stay ahead of the curve. Communication or journalism students, listen up! If there is one value I strongly believe that we should have in order to survive and thrive in this marketplace, it is: BE ADAPTABLE.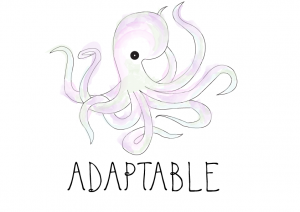 Like an octopus with the ability to transform its colour and texture to match with the surrounding environment. Being adaptable means we accept that things rarely stay the same and learn to enjoy the opportunities this bring to change and grow. Take coding for example, you can approach computer languages like a foreign language that you learn in school. Journalists can understand how information can be gathered and presented using code and how to use it for their own purposes. A little code goes a long way. When you go out and work, you will be able to talk with the computer science people and understand their language.
Here's one example of good online journalism that reflect this value: iAnimal – Animal Equality. Click here to find out more! Using technology to tell your story is so impactful and effective. Stay adaptable!