People love to be different. From the clothes we wear, to the music we listen to, to the places we go to eat, everyone is out to be a little bit different. But what about if this desire to be different seeps into our jobs as well? Is this healthy and natural? Or can it send employees into a tailspin?
Modern day journalism places a lot of focus on being creative in news production. In the 21st century, journalists are working harder than ever to have their work stand out from the ever-increasing number of competitors who are often reporting on exactly the same thing.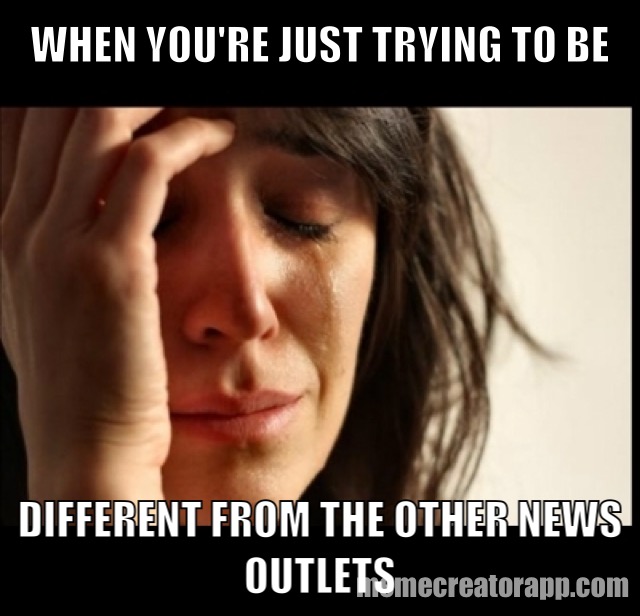 One way to be different in this instance is to pick a unique angle to a story. But what about when that's not enough? How can the technology we already have available, and the new technologies that is being introduced to us, be used to separate our work from the crowd?
At the beginning of the year, the Nieman Lab – a collaborative project form Harvard University that aims to decipher the future of journalism – asked some of the most brilliant thinkers in the industry to make their predictions about journalism in the year ahead. For 2016, a common theme amongst the predictions made was that 2016 would, or should, be the year for inventive and different storytelling, using both emerging and established technologies.
Mira Lowe, Senior Editor of Features for CNN Digital, raises the art of podcasting in her reflection, Amplification of Audio Storytelling. She suggests that the established technology of radio should be used in the form of podcasting in order to not only inform, but also entertain our audience. She argues that we live in a world where our attention spans are short and we want to be engaged to the nth degree.
She says,
"Whether they're short takes or longform, podcasts,' growth will be fueled by their capacity to create personal, intimate, enlightening, captivating experiences for listeners. Powerful podcasts amplify unique narratives and diverse voices. They also attract new followers — a boon to any media outlet."
Discussing the rise of certain viral audio stories, including the Milwaukee Journal's 7-part murder mystery podcast (longer form) and NPR's clips of erupting volcanoes and inside hurricanes (short form), Lowe ultimately says that for increased audience engagement in a world where people want to be entertained, newsrooms need to further invest in podcasts and reap the success that they can bring.
Taking a slightly different approach to how journalists can create different and stimulating news for their audience is Nathalie Malinarich, Mobile Editor for BBC News, who suggests that journalists should take advantage of the modern day technologies that are now becoming available.
Her reflection, aptly titled The Battle to Stand Out discusses the increasing need for news organisations to "battle" for their audiences' attention, given the increasingly crowded news outlet sphere. She asks the question: if everybody has the same footage to use for a story, then how can journalists present this in a new and exciting manner for people?
One of her solutions for 2016 would be to "animate it" – i.e, use GIFs or the discovery feature in Snapchat to "explain the world." Keeping it short, she says is another way that the battle for people's attention can be made easier. She also says that "in 2016, [we'll] see more VR videos as they become easier to film and publish to a range of platforms." Overall, it's brand new technology that she argues is the best way to engage a modern audience to their full potential, as well as stand out from other media organisations.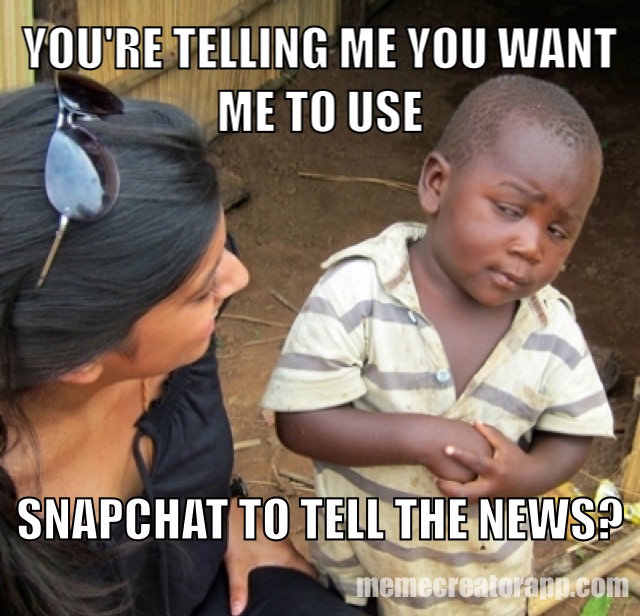 This leads to the thought though: how does a journalist really know when and where is appropriate to use different technologies for a story? Is it always okay to use VR for a story? Or to Snapchat one? This concept, in relation to a further Nieman Lab reflection will be discussed in the podcast below.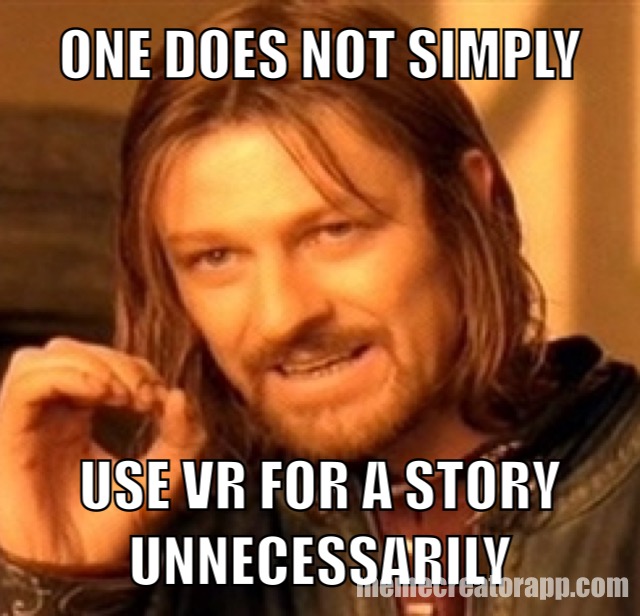 References:
PODCAST: