Melbourne is revered for its cafe culture, its quality coffee, and its weaving, art-filled laneways. It has held the title of the world's most liveable city six times, but despite the accolades, there are six things Melburnians love to hate about their city.
1.  Public transport and myki
There is nothing Melburnians hate more than their public transport system. While the introduction of the free tram zone in January 2015 has been great improvement to city accessibility, consistent overcrowding and delays on trams, trains, and busses has been a major cause of complaint. The myki ticketing system has also been criticised since it was rolled out in 2009. The tap-on key card replaced the humble Metcards to everyone's bafflement and eight years on, people are still confused and frustrated by the system.
Watching some poor soul get a fine on PT for not having a valid Myki on a packed city tram that they can't even get a seat on. Bullshit.

— Kon Karapanagiotidis (@Kon__K) August 9, 2017
40mins I have been waiting for a train.. try to touch off my Myki and get charged a fare for waiting for a substandard service.

— Debb Ashley (@ItsTheDebb) July 30, 2017
2. Unpredictable weather
The phrase 'four seasons in one day' was probably coined by a Melburnian. Just take this week as an example. In the space of seven days, there has been torrential rain, sunshine, and 94-km/h winds. The gusts on Thursday were so destructive that fences, trees and even some shopfronts were brought down.
Experienced Melburnians know to bring an umbrella, coat, and sunglasses everywhere they go. But many are still caught unawares by the sudden, often drastic, changes.
3. Public art
Melbourne likes to pride itself as being the capital of essentially everything in Australia- sport, food, wine… While the list is never ending, Melbourne's focus on the arts is something Melburnians are truly proud of. Hosier Lane's graffiti is a world-wide tourist attraction and the National Gallery of Victoria is visited by more than two million people each year, displaying the works of renowned artists like Vincent Van Gogh. But public art has a different relationship with the city. Certain pieces like the 'Cow in the Tree' sculpture on the Docklands waterfront and  'The Vault' are much less favoured with the public.
Melbourne Modern Art….. So they say…… Cow In A Tree!! Hmmm…… pic.twitter.com/BLCxum62ca

— Richard Tupper (@Tupps70) June 25, 2013
#Melbourne #YellowPeril would dearly like someone to educate me on the artistic merit of the 'yellow peril' #anyone? pic.twitter.com/r0OsBmOY57

— Art Vanderlay (@crazyjoedevola) July 14, 2017
4. Docklands
West Melbourne is home to Docklands, the forgotten part of the CBD. At start of the century, it was transformed from a series of ports and warehouses into what the government hoped would be a thriving metropolis. But nobody goes there. There are apartment buildings, a shopping precinct called Harbour Town, an ice skating rink, and the Star Observation Wheel, but it has done little to make the place a resounding success with the public.
Docklands reminds me of Tel Aviv. In a bad way. #melbourne #israel #urbanplanning

— MooseTheMoose (@Moosethemoose) March 26, 2017
Mayor says Etihad Stadium blocks Melbourne off from Docklands.
…How is being cut off from Docklands a bad thing? https://t.co/k2EfC0Io9g

— I. H. Laking (@IHLaking) November 12, 2015
5. Hipsters and their bizarre food creations
For those who don't know, hipsters are people who consider themselves outside the cultural mainstream. Melbourne's northern suburbs of Brunswick and Fitzroy are prominent 'hipster' areas, with trendy cafes and alternative clothing stores in abundance. While many Melburnians welcome the hipster vibe, some are simply angry about what they have brought to the table. Namely, food creations like the avolatte (coffee served in an avocado shell), smashed avo (avocado mashed on toast), and matcha lattes (lattes made with green tea).
We have to stop these fads for the sake of humanity- #avolatte pic.twitter.com/7I5CveZ1G2

— Eva (@Evas_Tweets) May 14, 2017
Melbourne is going to be such a strange experience. I've never seen such a dense congregation of hipsters in my life before that city.

— Nicholas (@Nikuhlus) June 22, 2017
6. Hook turns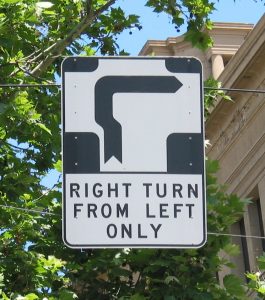 While every Melburnian claims to be an expert driver, the dreaded hook turn leaves many frustrated. Turning right into a street from the left-hand lane sounds simple enough. But the traffic rule implemented only in Melbourne is often very confusing for non-locals. Tourists' hesitation at the intersection only adds to the traffic congestion problems in the CBD.
hook turns are the reason im terrified of driving

— kurapoika @zines (@poika_) August 7, 2017
https://twitter.com/RehdersCorner/status/893454255071174659