Breakfast is the most important meal of the day. I can guarantee everyone reading this has heard that before. It's not only a popular phrase for parents and the many café owners around Melbourne spruiking the best brunch, but it's also a fact. From personal experience I am immeasurably more productive when I have breakfast as oppose to a milo breakfast- a staple in my life for a number of years in high school.
This is exactly the reason that two friends from Perth started a social enterprise; to feed kids going hungry at school, and to make delicious porridge.
One in eight children are arriving at school, already hungry. The lack of nutrients affects children and their ability to learn throughout the day. Three Bears are focussing their energy on providing assistance for kids in schools across Australia. Ben and KP, the owners of Three Bears plan on doing this through Eat Up Australia. Lyndon Galea is the man behind the organisation and has helped kids in 101 schools. Eat up Australia delivers food to schools in Melbourne and regional Victoria. Many volunteers and hospitality staff help out to make the lunches, since 2013 Eat Up Australia has delivered over 80,000 lunches!
Three Bears porridge was started by Ben and KP earlier in 2017, an idea the two had been toying with for years. The nonprofit social enterprise creates a rotation of deliciously colourful porridges, as well as an option for bircher muesli lovers. The duo have known each other since high school, back in a time where KP's penchant for porridge had yet to be unfurled into the Melbourne brunch scene.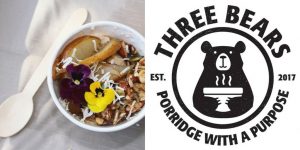 Photo: Three Bears
The idea for a porridge shop began in 2015 when Ben and KP were both studying at Curtin University, in Western Australia. With KP studying nutrition and Ben doing a degree in marketing, the pairing compliments their business perfectly.
The clutch moment that really got this idea moving was when Ben moved to Melbourne and began working for Crepes for Change, a social enterprise that gives 100% of proceeds to Launch Housing; a project that brings homeless youths off the street and gives them the opportunity to study at TAFE and find a job.
Ben began networking through his volunteer position as Crepes for Change and he started seeing Three Bears as an achievable possibility. This was around the same time KP was researching food insecurities in her final year of study. Less than a year later the pair were accepted into a business accelerator program titled Crunch, KP moved across Australia for this.
Co-owner Ben spoke to me about the quick evolution of Three Bears, from idea to reality.
We've experienced this radical growth where we got into a social enterprise business accelerator program called crunch, KP moved for it… we studied for 4 months, and then got logo designed and then started trading at farmers market, now we are at this point that in a years time it will be a fully fledged business with multiple staff employed and start donating, I'm hoping to get out first profit in the next 6 months.
Ben and KP have recently paired up with Dan Poole the social enterprise superstar responsible for Crepes for Change and the Coffee Cart Changing Lives. Dan has recently created Home.one – a social enterprise specialising in bagels. Much like it's siblings, the profits for Home.one are channelled directly into Launch Housing.
Dan has including Three Bears in his recent venture, with Ben describing the partnership as "Home.one featuring Three Bears".
I see a real alignment between my philosophy around like just do one product and do it really well, and what Dan does, he is creating a whole shop to sell bagels and I think that's really innovative and focused.
-Ben
Home.one sells Porridge in the AM, and coffee and Bagels in the PM, the fresh-faced business had a recent appearance at the RMIT city campus, where a pop-up shop ran for a fortnight. The pop-up broke even, and although the pair said it wasn't as profitable as they had hoped, but learnt some valuable things through the opportunity.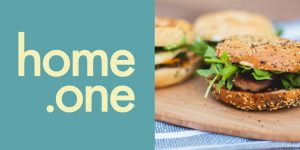 photo: home.one
Home.one will soon have a permanent address in Brunswick, with Ben and KP managing the store. Although Home.one and Three Bears have merged, they will still be dedicated to their own focussed projects. 100% of the profits from coffee and bagels sales will go to Launch Housing, and 100% of porridge profits will go towards Eat Up Australia.
In the future Ben and KP would like to open their own store selling their specialty porridge and be able to start a breakfast-oriented program for school kids in disadvantaged areas.