Roller Derby may have its roots in America, but it is growing fast in Melbourne.
Upwards of a thousand spectators packed into Springers Leisure Center in Keysborough to watch the rough and tumble, girls only sport at their "jam" BRAmageddon.
Cyndi Lawbreaker loves to 'smash bitches'
Roller derby is one of the few contact sports for women and element physical element is appealing for many competitors, according to skater and RMIT student Cyndi Lawbreaker.
"I love to smash bitches," Cyndi said.
But she is not always the one doing the smashing, Cyndi has been in the path of a few knocks herself.
"One of my very good friends 'Ethel Noll' smacked me in the face with her elbow pad and my mouth guard filled up with blood.
"Sadie broke her nose on the track and then she came back from that and two bouts later she broke her ankle on the track," she said.
It isn't all bloody mouths and broken bones though, the teams foster a sense of community and BRAmageddon was also a charity event, encouraging women to bring old bras to donate to women in Africa. The friendships forged in derby also bring
"I have more friends now than I've ever had. I came into derby in a really low point of my life and over the last two, nearly three years I've actually started to find myself again," Cyndi said.
It's all Girl Power for Ale Mary
Roller Derby is the "fastest growing" female only sport and the independence of the South Sea Roller Derby league attracts a lot of people, according to "jammer" Ale Mary.
"It is largely women run and we call it by the skater for the skater. There's a girl power element to it, but it is less Spice Girls more it takes a lot to knuckle down and run a roller derby league,
"It is very much something we are proud of doing as women," Mary said.
The responsibilities of running a league can be part of the fun though, creating more of a connection than simple
"With derby it's not just getting out and running about for an hour it's actually committing to the concept of derby, which is really a DIY."
Talibamma Slamma is American muscle
The theatrical element of the sport attracted The Dolly Rodgers' American import and Deakin student Talibamma Slamma.
"I played sports all my life so it was the athletic aspect, but I also did theatre so there's drama and athleticism and fun costumes and everything on skates and it's just like a big party," Talibamma said.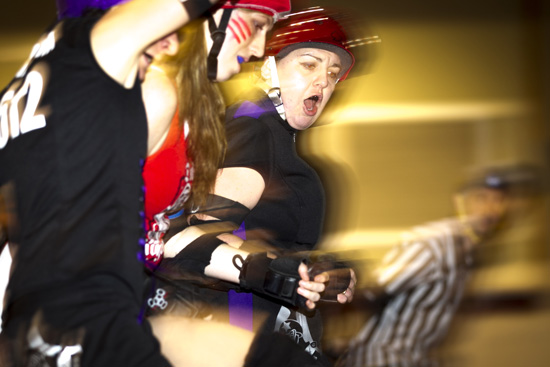 Derby attracts a vast array of spectators, from families to people in full dress up.
"You see a lot of rockabilly people show up and you get the most amazing outfits at our bouts, like these gorgeous fifties dresses or they just go all out, we had a whole bunch of storm troopers show up to one so that was fun!" Talibamma said.
All pictures : Matthew Bayard.
To read more about roller derby and see some exclusive photos pick up a copy of The City Journal's print edition. 
Produced by Matt Dawson