Every five years or so, there seems to be 'AFL draft infatuation'.
In the early 2000s, every club wanted to draft a power forward taller than 195 centimetres and heavier than 100 kilograms.
Other clubs tried to emulate Hawthorn's strategy in the 2008-2012 period, by taking left footed players with long kicks.
In the last two years, the 'tall midfielder' has come into vogue. The success of players like Nat Fyfe, Patrick Cripps and Marcus Bontempelli has made this the 'sexy' pick. It's been particularly risky, as all three of those 190 centimetre plus midfielders hadn't shown been clear standouts in the junior years.
While all this has happened, there has been a very subtle rise in the sub-180 centimetre recruits.
It might be a limited sample size, but the intake of these smaller guys have quadrupled over the space of four years.
"If you put a sub-180 centimetre player against Nat Fyfe, David Mundy and Michael Barlow, how do they win the ball?" SEN's draft expert Brett Anderson asked.
"Fremantle's also got Lachie Neale (who's 176 centimetres) in there as well, but you've got to have the right mix of taller midfielders alongside them," Anderson said.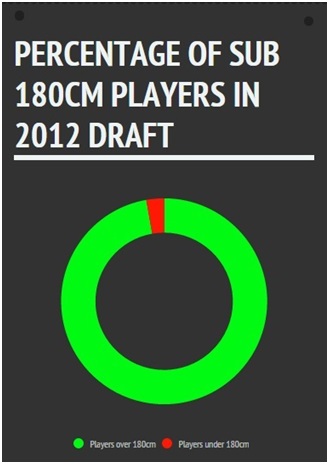 With the tall midfielder trend coming into vogue, it shifts the size balance in the midfield and creates mismatches, which in turn, opens up space for smaller midfielders to come in.
In 2012, only Ben Kennedy and Nathan Hrovat were drafted. They were early picks at picks 19 and 21 respectively, but neither has made a significant impact in the top flight.
2013 – A sudden trend
2013 saw the birth of the new small midfielders' trend. Clubs perhaps weren't taking smaller midfielders over a taller one of similar talent levels, but it became clear in 2013 that talent outweighs size.
"When you've got a 172 centimetre guy and a 180 centimetre player who have the same talent level, you'd take the taller one, as he has more scope to play at AFL level," Anderson said.
"You have to be really special when you're sub-180 (centimetres)," Anderson said.
Interestingly, not one of the extremely talented sub-180 centimetre players was drafted in the first round of the 2013 draft.
Lewis Taylor was taken at pick 28 of the AFL draft, despite playing in the AIS Academy and eventually winning the NAB AFL Rising Star award in his first AFL season.
He was rated by most experts as a top 15 talent, but like most players, he had to temper his expectations going in to the draft.
"I wasn't been told 'we'll take you if you're there at our pick' so it was just a case of waiting. To me it doesn't matter what pick you go, it's just a number," Taylor said.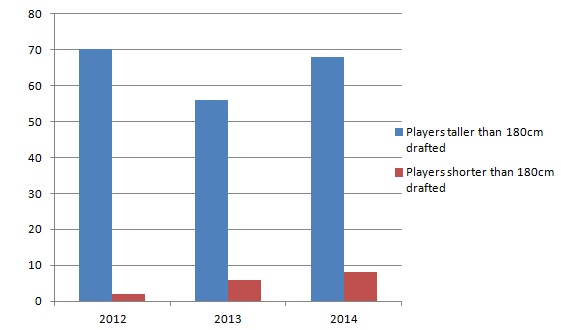 Billy Hartung had been a star in his draft year. He broke the beep test record, with an astonishing score of 16.6.
With a rare mix of elite endurance, speed, great kicking and the ability to find plenty of the football, it was clear he was one of the most talented athletes in the draft.
Despite all that, he slipped to pick 24, where the reigning premiers Hawthorn selected him; one of the biggest draft day surprises as he was tipped to be picked up before the 20th selection.
Hartung allegedly told Melbourne and Essendon that he did not want to play for either of their clubs, citing that the Demons were 'too bad a side' and he refused to play for the Bombers while they were involved in the supplements saga.
The Bombers had their first and second round picks stripped from them in 2013 and 2014, so they had to trade out players to bring in new talent. Their two selections in 2013 were Zach Merrett and Orazio Fantasia; both of whom added speed and skill. But they were just 179 and 177 centimetres respectively.
Jay Kennedy-Harris was the first indigenous co-captain of the Oakleigh Chargers, while Jarman Impey also flew the indigenous flag, being the first sub-180 centimetre player picked in the 2013 draft.
The face-off
The prototype tall and small midfielders faced off against each other in last year's race for the NAB Rising Star Award. Taylor edged out the more highly rated Bontempelli by just one vote. It mighn't mean much in the long run, but it was a win for the smaller guys who are battling hard to get recognition.
2014 – The Rise
To get drafted as a shorter player, you must have at least one elite quality. At 168 centimetres, Caleb Daniel defied all odds, being the second shortest player ever to be drafted, behind 163 centimetre Brownlow Medallist Tony Liberatore.
The helmet wearing midfielder was rated as the 15th best player in the draft statistically by Champion Data. Daniel averaged 20 disposals at a ridiculous 92% efficiency, two goals and five tackles in his three games in the National Championships.
"You look at Caleb Daniel, and you have to work out whether he can win the footy in the midfield against guys who are 20 centimetres taller than him," Anderson said.
The Bulldogs ended up drafting him, whilst simultaneously starting a 'short player' revolution. The Dogs selected Toby McLean (180 centimetres), Declan Hamilton (183 centimetres), Bailey Dale (182 centimetres) and of course Daniel, with four of their first five picks.
Jarrod Pickett was taken at pick four by the GWS Giants. He stands at just 177 centimetres, but his burst of pace and skill made him one of the most exciting prospects.
Pickett's fellow Western Australian compatriot Clem Smith was selected at pick 60 by Carlton. Smith was one of the highest rated 17 year olds, becoming an All Australian in the National Championships a year before he was draft-eligible.
The issue with Smith was his body. His tested in the 90's for his skin fold testing; more than double what most AFL players are at. Despite issues with his weight and height, he ended up not only getting selected, but playing several games for the Blues in his first season.
Touk Miller was one of only two Gold Coast Suns players to be selected for every game in 2015, whilst former gymnast Cory Gregson continued the alternative talent pathway for Geelong, who had previously brought in a steeplechaser in Mark Blicavs, a rower in George Burbury and a basketballer in Michael Luxford.
2015 – A dip, but not in quality.
We can expect a slide in quantity for shorter players in the 2015 draft. The highest rated short player is 177 centimetre midfielder Jade Gresham. He averaged more disposals than anyone else in the TAC Cup and stood out for Vic Metro.
"I think Jade Gresham is the best out of the smaller players. There's only a five centimetre difference between he and (likely top five pick) Darcy Parish, but it seems to make a big difference to recruiters," said AFL.com.au's draft expert Callum Twomey.
Kieran Lovell dominated the National Championships for Tasmania, but at 174 centimetres, he is not expected to be a top 30 pick.
AFL Trade Radio's Jack Heverin asked Lovell whether being shorter was a challenge:
"He gave me a respectful answer, but he gave me a look as if to say 'are you serious? Do you know how much of the football I rack up?'"
Will Snelling's incredible endurance and leadership makes him a strong draft candidate, while Bulldogs father-son prospect Darcy MacPherson is expected to join the mosquito fleet down at Whitten Oval.
When being the best isn't quite enough
Perhaps the most interesting player in this draft is Blake Hardwick. At 181 centimetres, his height won't stop him getting drafted. He took out the TAC Cup goal kicking award with an astonishing 56 goals from 16 games, with bags of 12, 10 and eight goals in three matches this year.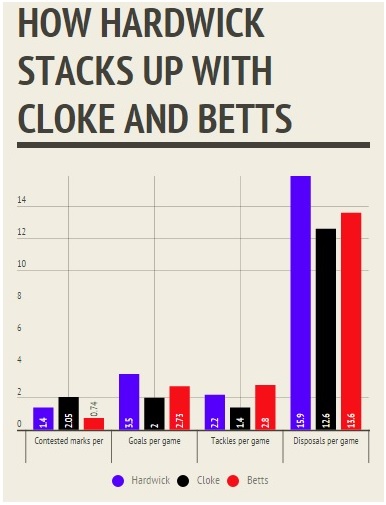 Hardwick plays like Tony Lockett, as a bustling, strong leading forward out of the goal square, with an incredible kicking accuracy. He has the highest contested mark rate of anyone in the 180-190 centimetre size range.
"If you play a small on him, he'll beat you in the air. If you play a tall on him, he'll get you through evasiveness," Anderson said.
Despite all these plaudits, Hardwick is not considered to be a top 40 pick, as he hasn't shown that he could be genuine midfielder at AFL level,
Hardwick plays like a cross between Collingwood's 196 centimetre power forward Travis Cloke and Adelaide's 173 centimetre maestro Eddie Betts. Interestingly, no player under 184 centimetres was ranked in the top 100 for contested marks taken per game in the 2015 AFL season. Blake Hardwick, conversely, averaged only 0.65 less contested marks per game than Cloke, who is rated as one of, if not, the best contested mark in the league. Hardwick's stats stack up well against Betts and Cloke, as he seems to have all the skills needed to succeed as a forward in the AFL.
What needs to change
Despite the increasing numbers of shorter players being drafted, they still make up less than ten per cent of the draft pool.
"I don't think the stereotype will go away. As a society we are getting bigger. At the Brownlow we saw Mike Fitzpatrick, who used to be a ruckman, standing next to Nat Fyfe who actually had a few centimetres on him," Anderson said.
"For the stereotype to change, we need more Lewy Taylor stories. We need Jade Gresham to succeed," Anderson said.
For the draft scene to change entirely, the transformation has to start at the beginning of the elite talent pathway. Shorter players are being overlooked even at 16, so they don't have the chance to develop in the right environment and prove their worth.
"Even at feeder clubs, guys who are below 170 centimetres have a black mark through their name. TAC Cup, SANFL and WAFL clubs need to let these kids have a go, in order for anything to change," Anderson said.
Whilst the taller midfielder trend allows clubs to overcompensate for shorter midfielders, the change of view on drafting shorter players will not change until a monumental shift occurs in the AFL landscape.
Someone like Daniel, Taylor or Gresham needs to become a transcendent superstar that eclipses all else, just like Nat Fyfe has done for the taller midfielders.
Until then, the size discrimination battle will continue to live on.