On Tuesday, the Australian Human Rights Commission released the 2017 National Report on Sexual Assault and Sexual Harassment at Australian Universities. The results were eye-opening: From the more than 300,000 students that replied to the survey, about 1 in 5 students were sexually harassed in a university setting, and 1.6% of students being sexually assaulted in a university setting. Females were three times as likely to be sexually assaulted by men, and nearly half of the students affected knew the perpetrator. Most shockingly however was the fact that almost 90% of all students who were sexually assaulted or harassed did not lodge a formal report or complaint to the universities they were attending.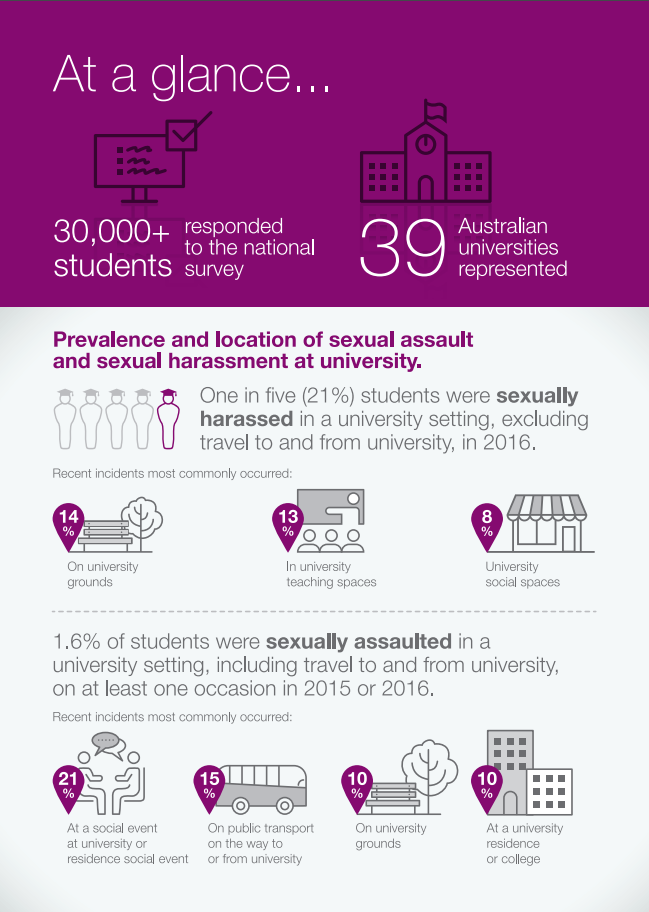 Infograph by Australian Human Rights Commission
"The stories told by survivors are shocking. The results are shocking. We should all be shocked," said Australian National University Vice-Chancellor Brian Schmidt.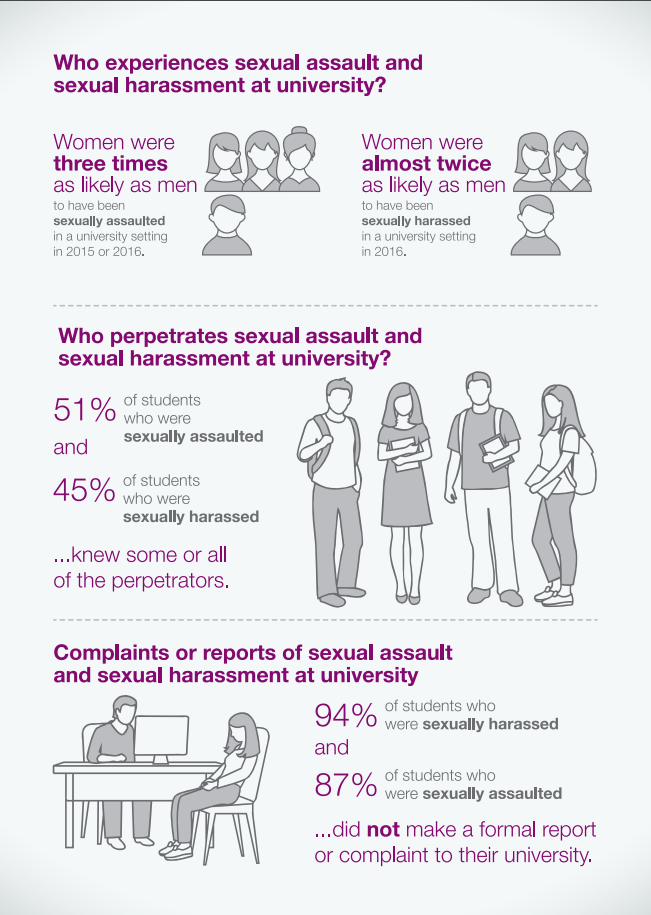 Infograph by Australian Human Rights Commission
While schools and universities do offer support and services for students who are affected by such acts, there is often a fear of reprisal or disruption experienced by the victim that makes them unwilling to report such incidents. New students who have just enrolled are especially vulnerable, as they are not aware of such services provided by the school, nor do they feel 'stable' enough to let such disruptions get in the way of school life. However, even for those who muster the courage to lodge a complaint to the school, the replies and help they receive is often lacking.
In an interview with RMIT's Catalyst, an RMIT alumni who graduated in 2016, the alumni stated she was already being harassed persistently by her male mentor during her first year, though she didn't want to say anything back then due to wanting to leave a good impression on her first year. When it continued to the second year though, she decided to finally report her situation to a senior lecturer.
However, the reply she got back from the senior lecturer was disappointing. While her lecturer informed her that they were aware of his behavior and would give her access to class resources so she wouldn't have to attend his class, they also mentioned that was all they could do for now, and that if she wanted to bring it up any further, she could no longer be kept anonymous, and that her mentor would know she lodged a complaint.
It is this lack of support that often has those who are affected by sexual harassment and assault keep quiet about it, instead of reporting it to those in charge. The fear of reprisal, combined with lack of anonymity and support from the universities is the main factor behind most unreported incidents, and is the main issue that both universities and students now face when it comes to confronting this issue.
"It's something we do not and will not tolerate. One incident of sexual harassment or sexual assault is one too many," said RMIT University Vice-Chancellor Martin Bean in an email sent to all students and staff of RMIT.
"The figures are confronting for the university sector and give us all a serious reminder that, across Australia, we still have a long way to go to address this issue."
At the very least, universities across Australia have acknowledged this shortcoming, and have offered a measure of action against such future happenings, such as implementing mandatory responding-to-disclosure training to all staff members, to having yearly surveys for the student body in addition to the national survey every three years. At RMIT, a process of restorative justice is being implemented for victims of sexual assault and harassment. With fewer than 1 in 100 cases resulting in conviction for the offender, many victims never get full closure or justice for the transgressions against them. With this act of restorative justice, RMIT hopes to be able to help to bring their offenders to justice, providing support to victims and bringing a form of closure to them, however significant it might be.
With the international student education sector in Australia worth $20 billion, one of Australia's largest exports, many universities are keen to repair the damage done, offering reforms and programs in a bid to combat sexual incidents in universities to their students. Whether or not these measures are effective, only time will tell.
If you require aid against such incidents happening against you in universities, contact 1800-RESPECT / 1800 737 732
Help is also available on the National University Support line at 1800 572 224
Link to additional resources:
2017 National Report on Sexual Assault and Sexual Harassment at Australian Universities.