Reported with assistance from Nadia Khan and Mashhood Yousafzay, from the University of Peshawar.
Debates on vaccinations can fire up emotions all over the world, as we have seen recently in Australia, but in Pakistan speaking about vaccinations can be dangerous as the reasons parents choose not to vaccinate their children are tied up in religious extremism, mistrust of the government and the war on terror.
In Pakistan, polio workers often administrate vaccinations under security protection as they have been the targets of militant attacks, the last one in April 2016.
Many people simply refuse to speak about the issue to journalists and all people that we spoke to for this article did so only on the condition that their names would not be used.
Pakistan is one of only three countries in the world that has not yet eliminated polio, along with Afghanistan and Nigeria, and there were 37-recorded cases of polio in Pakistan in 2016.
The Pakistani government, with long standing support from Western organisations, have run widespread door-to-door campaigns to eliminate polio, with the latest vaccination drive beginning on May 15 with an aim to administer polio vaccinations to 6.6 million children in the rural areas of Khyber Pakhtunkhwa and FATA, which border Afghanistan.
Yet, health workers' biggest fight is against the parents who refuse to vaccinate their children.
Until three weeks ago, parents who refused to have their children vaccinated were arrested and detained briefly under the Maintenance of Public Order but due to the community's reaction to the arrests and threats to health workers it will now be left up to local committees to convince people to immunise their children.
Religious leaders and the Taliban have campaigned against the vaccines, labelling them a Western and government plan to sterilise their children and reduce the population.
The mistrust of the vaccine was also greatly magnified after the 2012 US plot to find Osama Bin Laden, in which the CIA used health workers in a phoney vaccination project to collect DNA in order to help locate the Taliban leader.
Another common concern is that the OPV (oral poliovirus vaccine) contains pig fat, something that doesn't fly in a country where over 95 per cent of people are Muslim.
One parent we spoke to quoted respected Islamic religious scholars, who said that the polio vaccine is not halal.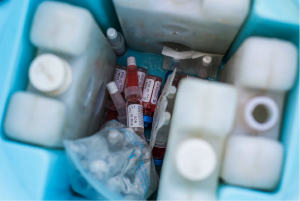 (Photo Credit: United Nations Photo)
A Peshawari Doctor refuted this, she said that there are no traces of pig fat in OPV because the vaccine is transported via cold chain, where it is refrigerated between zero and eight degrees Celsius, and at these temperatures pig fat would solidify.
The rumour that OPV makes children infertile is also "not valid as the natural immunity system in the throat and stomach protect children," the doctor said.
One health worker, a women who requested not to be named, is on the front lines of the fight against polio and told us in one case it took up to a month to convince a mother to vaccinate her child, with many other parents completely refusing.
"There is no conspiracy and every time we care about the children and convince their parents with patience and polite behaviour, but illiteracy and lack of education become the main hurdle," she said.
Patience seems to be working with Peshawar deputy commissioner Saqib Aslam Raza telling Pakistani English language newspaper, Dawn, last month "we have reduced the number of people who defied vaccination from 7,000 in 2016 to about 2,500 in 2017 in Peshawar so far".
Acknowledgement from Peshawar University Students who assisted with the report:
In the name of almighty Allah, after we pay great thanks to our teachers Prof Dr Altaf Ullah Khan, and Dr Faizullah Jan, Chairman of the Department of Journalism & Mass Communication, University of Peshawar. The professor Alex Wake in Australia, Mr Numan and Mr Fidaullah Khan who facilitate us with information communication technology, video, internet and etc  also we appreciate the services about refreshment of tea, and lunch of Mr Zahir Ullah (Sadar Sab) Other than we take a great help in reading material from the few websites the Daily Dawn, Daily Express Tribune, WHO, UN, Rotary International, and Google, also polio refusal parents and staff member of polio eradication program in KP, Pakistan.