The AFL's new broadcast deal has been plastered all over news platforms, and the numbers are absurd. For the six years between 2017 to 2022 the AFL will net a huge $2.508 billion.
Let's break down the figures: that's $418 million a year. With 198 home and away season games and nine finals matches per year (207 in total), that brings the figure of average game value to $2,019,323.
Suffice it to say, it's a lot of money. So for a bit of context, let's address it: just what could you buy instead of broadcasting just one AFL game?
386 helicopter rides to Geelong
In a six-month report to the Finance Department, Bronwyn Bishop's infamous helicopter ride from Melbourne to Geelong was detailed to cost $5227.27. The powers-that-be at the Seven Network, News Corporation or Telstra could either choose to broadcast a game of AFL, or they could venture to Geelong via helicopter 386 times.
If Geelong continue to play eight games per year at the Cattery, 386 helicopter rides will give you a return trip to Simonds Stadium for the next 24 years.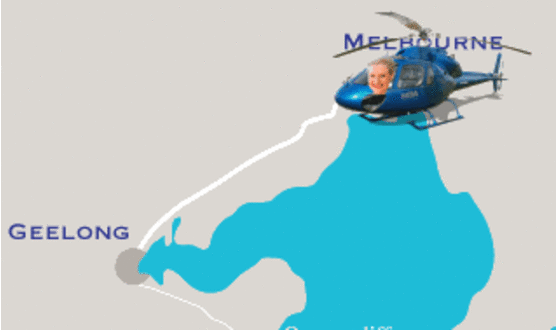 A wedding or 50
According to the Australian Bureau of Statistics, the average Australian wedding costs $40,000: the value of broadcasting the average game would be enough to fund 50 Australian weddings.
That is, unless your name is Salim Mehajer.
Lance Franklin's contract for this year and the next
It was one of the biggest AFL stories in history, when Lance 'Buddy' Franklin defected to the Sydney Swans on a nine-year contract. While conjecture has surrounded just how much he is being paid, Fairfax Media reported in 2013 the make-up of his deal: it would see him net $1.9 million in 2015 and 2016.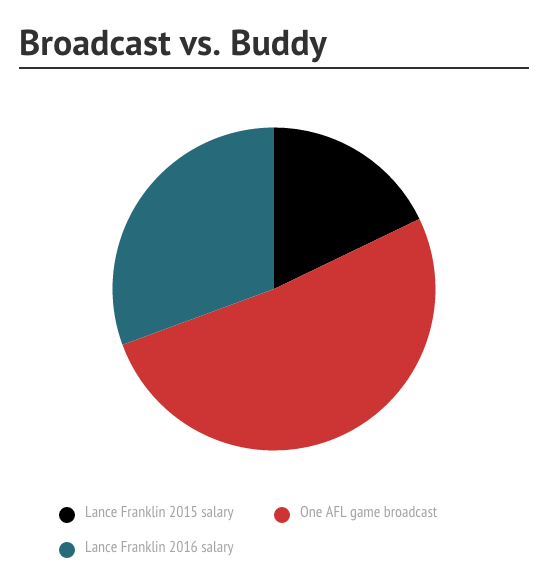 A key point from this television rights deal is that total player payments are bound to get a percentage increase, meaning respective club salary caps will be on the rise. It's not inconceivable this deal will bring about the first $2-million-salary-a-season man in the AFL.
A house in Brighton
realestate.com.au reports that the median house price in Brighton (one of Victoria's most lucrative and expensive suburbs) currently stands at $1,937,500. While not quite enough to buy one of James Hird's mansions in Toorak, the choice to broadcast your regulation Brisbane vs. GWS from the Gabba in the Saturday twilight time slot could set you back a house in Brighton – with some cash left over.
Paying the Essendon coach to not coach
Speaking of the now ex-coach, the only thing keeping this historic deal out of the limelight was the much-publicised and much-awaited end of Hird's tenure. On a lucrative salary with a paid trip to France for 'development' included in his suspended year of 2014, Hird's negotiated settlement with the Bombers won't exactly hurt his hip pocket.
It's now the second coach Essendon have paid in the last five years to not coach their side. After paying Matthew Knights nearly $1 million in compensation for sacking him with two years to run on his contract, Hird will be receiving close to that amount for each of the next two years.
So, televising just one AFL game could pay out three years of Essendon's 'unavailable' coaches.
Saving world domination – twice
Well, if Dr Evil was in charge that is.
Half an hour of Greek interest debt
It is estimated that Greece's debt is rising at an interest of €736 per second, which is AUD$1107. So, for one broadcasted game under the new deal, you could pay off half an hour of their debt: or, in other words, one quarter's worth of footy.
Just 20 minutes of an English Premier League game
While the deal is undoubtedly a historic one, 'Australia's Game' has a long way to go if it's going to reach the world game's appeal. AFL Chairman Mike Fitzpatrick opened his press conference by saying, "The AFL understands the challenges of the sport in a rapidly increasingly globalised environment … our challenge of the next decade is to expand the competition."
By comparison, the English Premier League's broadcast deal cemented last year was worth $10 billion over three years. With 380 games per year, it values the average game at $8,771,929: therefore, one AFL game would be worth about 20 minutes of the round-ball code's biggest league.
Two years of Sepp Blatter's reported wage
Admittedly, this was in 2011, and was stated by the man himself on face value: so we're not having a bar of it. Regardless, Blatter claimed four years ago that his presidential salary saw him net $1 million a year.
Granted, that would be before all of his 'bonuses'. Note, this doesn't include being showered by fake money.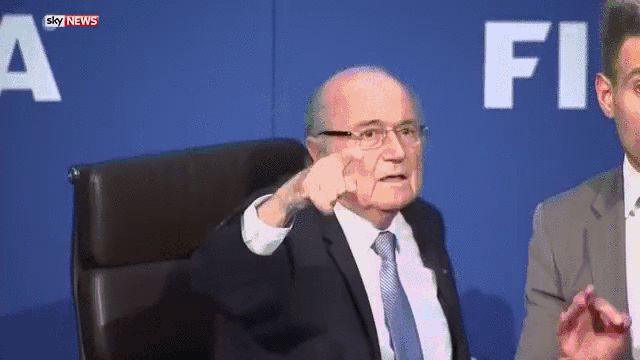 Andrew Demetriou's salary in his final full year
Another key sporting bigwig that's a bit closer to home, Andrew Demetriou's tenure as AFL chief executive saw him manufacture the last broadcasting deal which was historic in its own right.
In his final full season of 2013, Demetriou's base salary was $1.48 million, rising to $1.8 million after performance bonuses. One game under his successor Gillon McLachlan's manufactured deal would be enough to pay Demetriou's final year salary: prior to his $2 million long-term incentive bonus.
Meatloaf's performance at the 2011 Grand Final – 3.4 times
Meatloaf was rumoured to have received $600,000 for his performance on football's biggest stage four years ago. In the scariest proposition of them all, the AFL could bring him back for the next three years along with just shy of half a performance at the cost of just one televised game.
Featured image credit: Wajahat Mahmood, Creative Commons Flickr